Bearded Dragons For Sale In Boston
Jabberwock Reptiles is the perfect place to acquire a beautiful bearded dragon in the Greater Boston area. We have very reasonable prices, and unlike other vendors, we provide you with all the equipment and the care instructions you need to raise a healthy bearded dragon. Do you need a cage, lighting or other accessories for your bearded dragon? We have all of that! Visit our store in Winchester now!
Why Jabberwock Reptiles?
Our staff breeds several different reptile species, including the bearded dragons; and we make sure new owners know how to properly take care of their new pets. The core of our business is the love we put into what we do, and what our clients like the most about us is how passionate we are. Stephen Ayer, owner of the store, has a Ph.D. in Biology and several years of experience in the reptile and animal care industry. Do you need help with your bearded dragon?
All You Need For Your Bearded Dragon
Jabberwock Reptiles is a complete pet store. If you already own a bearded dragon, we have all the accessories and supplies you may need. Some of the things you can find at our store are: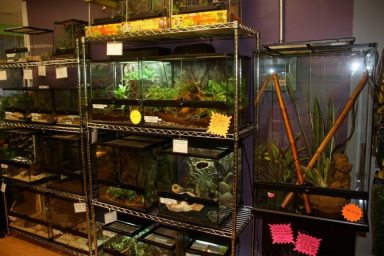 Cages
Bedding & Substrates
And much more!
Lighting and Heating accessories
Water bowls
Visit Our Store!
We're the #1 option for people interested in buying a bearded dragon in Greater Boston. If you're looking for a specific accessory or have questions, feel free to contact us using the contact form or by calling at 781-729-0135
Need more information about buying a Bearded Dragon?