Leopard Geckos For Sale In Boston
In our store, you will find the coolest leopard geckos in the Greater Boston area at unbelievable prices. Jabberwock Reptiles promotes best care practices, and we provide you with all the necessary equipment to raise your new pet. Our store in Winchester is the perfect place for getting a Leopard Gecko or buying accessories like cages, lighting, substrates, etc.
Buying From The Experts
When you buy a Leopard Gecko from us you'll receive all the tips and instructions to take good care of the little critter. Here at Jabberwock Reptiles we love what we do, and all our staff has extensive experience breeding different species. Our store owner, Stephen Ayer, has a Ph.D. in Biology and has spent several years breeding reptiles and other animals. You can learn more about Leopard Geckos here:
Leopard Gecko Accesories
When it comes to accessories for your Leopard Gecko, we have what you need. We're constantly looking for new stuff for the store and our customers. If you can't find what you need, we can always help you find it. Some of the accessories we have in our store are: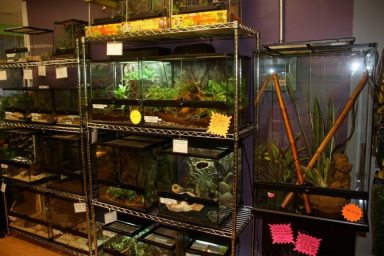 Cages
Bedding & Substrates
And much more!
Lighting and Heating accessories
Water bowls
Come Get Your New Pet!
When looking to buy a leopard gecko in the Greater Boston area, Jabberwock Reptiles is your best option. Contact us if you're shopping for a specific accessory or if you have any questions, or feel free to call us at 781-729-0135
Need more information about buying a Leopard Gecko?